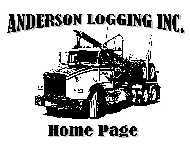 ---
- New Lowbed Tractor -
---
Background - Equipment - Links - Cal Poly - Legacy - Ranch
---
Another Project this past winter was to build up another Lowbed Tractor. We previously had one dedicated Lowbed Tractor with a 20,000 Lb front axle. We run two lowbeds, a Murray and a Cozad, and when we need them both at once (which is very common) we had to convert one of our logging trucks that was equiped with a quick change. With the current harvesting practices, we spend as much time moving equipment as we do logging with it, so we constructed another Tractor.
We purchased a "Glider Kit" from Kenworth which is basically just a Frame, Front axle and Body(Cab, Hood, Fenders, Etc.) We then purchased a 3406E Cat Engine (550 HP) From Peterson Cat and Stole the heavy duty rear ends and 18 speed transmission out of our log truck that had previously had a quick change for moving equipment. The first step in the process was to construct the ramps. After a few hours on AutoCad Myles had the shapes for the ramps and the T1 steel was ordered and they were cut out following a printed copy of the drawings. Then it was of to the shop for some cutting and welding!!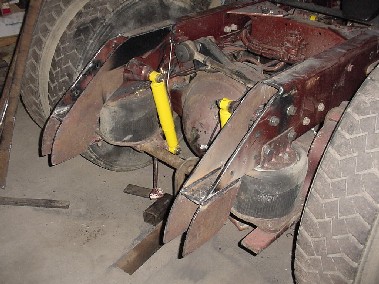 Some bracing was added for strength and then lots more welding....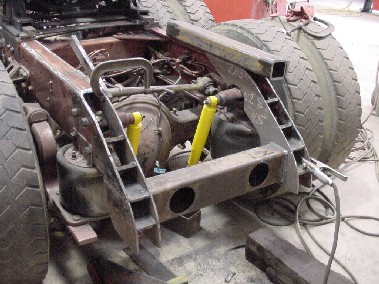 The sliding 5th wheel was bolted on, alot more welding, the cab guard was bolted down the new driveling was installed, and then everything came to a hault when we tried to wire up the engine. About 20 wiring harnesses and multiple calls to the Kenworth Engineer in charge of the truck wiring we finally got it running (I am being very nice here!!!). Turnes out they had just changed the main junction box for the new trucks and we were one of the first to try and make it work, most of the people at Kenworth didn't even know how it worked, and thats all I am going to say about that.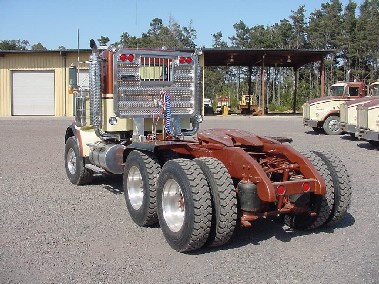 A little paint and were ready to work!!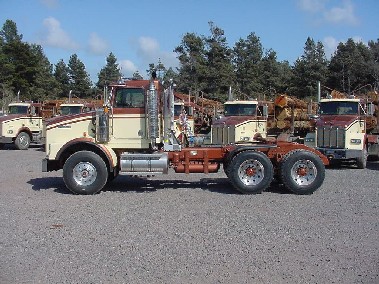 One of the first moves was taking our excavator down to Albion Ridge to do some road work on a Timber Harvest Plan we were working on in Salmon Creek Watershead.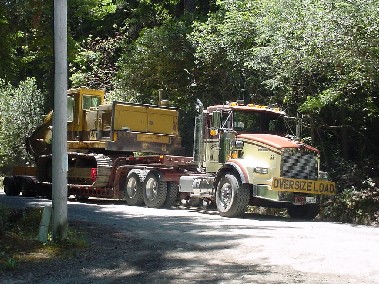 This picture does not do justice for some of the places we go with our lowbed but it is the best picture I have for now, and I will work on a better one. Here is a picture of our Murray making its way through a rolling diped step windy road, very typical of the roads we drive on daily!!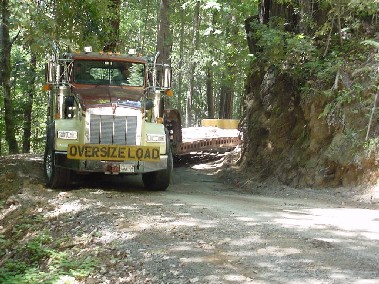 One more, would you want your half a million dollar piece of equipment on this?